PT127B coefficient of friction tester is an advanced and intelligent test instrument with high accuracy. It complies with standards and adopts micro computer processing technology. The elements, parts, single-chip microcomputer, touch screen are all advanced ones with reasonable construction design. The functions contain different parameter testing, translation, adjusting, showing, memory, printing, etc.


Product features
High-precise load to ensure test accuracy within ±1%, which is better than standard required ±3%.
Stepping motor control moves to ensure high accuracy, steady and good repeatability.
LCD displays data; friendly interface; test automatically; test data analysis function; micro printer.
Test result is stored and displayed automatically to reduce human error.
Kinetic test, static test


Product Application
It is applicable in static and kinetic coefficient of friction tests of plastic films, sheets, rubber, paper, PP woven bags, fabric style, metal-plastic composite strips/belts for communication cable, conveyor belts, wood, coatings, brake pads, windshield wipers, shoe materials and tyres, etc. With the material smoothness testing, users can control and adjust material quality technical indexes to meet application demands. Besides, this tester is applicable for the smoothness measurement of cosmetics, eye drop and other daily chemistry.
Technical standard
GB 10006、GB/T 17200、ISO 8295、ASTM D1894、TAPPI T816
Product parameter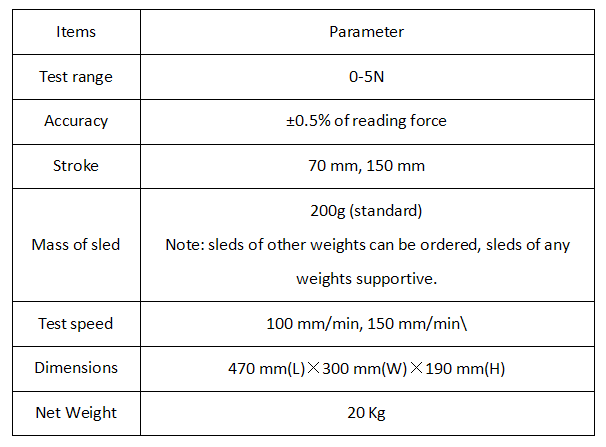 Main fixtures
Standard: Mainframe, sled of200g, operating manual, Certificate of quality, 4 rolls of printer paper, power line.
Optional: non-standard sled