The Scan Ready P-800 measures the absorbance with the intuitive touch screen. It provides reliable and qualified results by the high-quality photometer through the built-in powerful software. By the big 7' colorful touch screen, the user enjoys the intuitive operation on the system. And the friendly visual user interface with the logical workflow ensures the excellent usability, making it ideal for qualitative and quantitive ELISA applications in the research laboratories.
Features:
Wide wavelength range of 340nm to 850nm
Accurate:0-6 Abs absorption range
8 filters wheel with three preset filters
Fast reading of both 96 well and 384well microplates
Shaking and incubation from RT+4°C to 50°C for temperature critical assays
Big 7' colorful touch screen for intuitive operation
Easy but powerful software with its logical workflow for universal usability
High quality photodetector from Hamamastu
USB port for easy data transfer
Scientific design of optical system to ensure the accurate measuring results
The optimum design and the verification of the optical path and circuit, meet the wide detection range from 340-850 mm wavelength. The detection results of each band are accurate and stable, applicable to a variety of rigorous applications.
The stable and reliable performance comes from the built-in self-diagnostic program of the machine.
In the start-up stage, the built-in self-diagnostic program detects the position of the microplate, and the stability of optical components.
Large colorful LCD touch screen for easy use
7 inch colorful capacitive touch screen, can display more detection data. The large size icons realizes easy touch operation and reduces disoperation as much as possible.
There are three shortcuts to start the customized protocols with one-button start.
Powerful internal software Functions include:
Main: protocol, plate format, measurement, shaking, incubation
Process: plate layout, preprocessing, calculation, interpretation, quality control
Results: raw data, calculated results, calibration data, quality control, results in list format
Settings: system, filters, printer, startup.
Application:
Immunoassays (ELISA)
protein assays: BCA, Lowry, Bradford
endotoxins
cytotoxicity and proliferation assays
enzyme assays
growth curves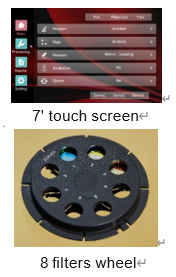 Specifications:
Model

CL-P-800

Plate Type

96-well and 384-well plates (max height:15.3mm)

Light Source

Quartz-halogen lamp

Detector Type

Photo detector

Wavelength Selection

Filters (340-850nm)

Filters wheel

8 filters wheel; Filters installed: 405nm, 450nm, and

620nm.Additional filters can be ordered separately.

Optional filters

340/375/414/492/520/530/540/550/560/570/596/593/630/650

690/740/750/820

Half-bandwidth of filters

8±2

Linearity

0–3 Abs, ± 2% at 405nm, 96-well plate

0–2.5Abs,±2%,at 405nm,384-well plate

Read-out Range

0 to 6 Abs

Resolution

0.001 Abs

Accuracy

± 1% (0–3 Abs) or ± 0.003 Abs, whichever is greater at 405nm

Precision

CV ≤ 0.2% (0.3–3 Abs) at 405nm

Shaking

Linear shaking with three modes: slow, medium, fast

Measurement Speed

7 seconds, 96-well plate, fast mode 13 seconds, 96-well plate, normal mode 13 seconds,384-well plate, fast mode

34 seconds,384-well plate, normal mode

Optional incubator

Temperature ranges from ambient + 4℃ up to 50℃

Display

7' colorful touch screen

Shaking

Linear shaking with three modes: slow, medium and fast

Interface

USB port for data transfer, USB port for printer

External printer type

HP PCL5、PCL5c、PCL5e

Size (LXWXH)

400x290x220mm

Power supply

100-240V(50/60HZ) with the adapter